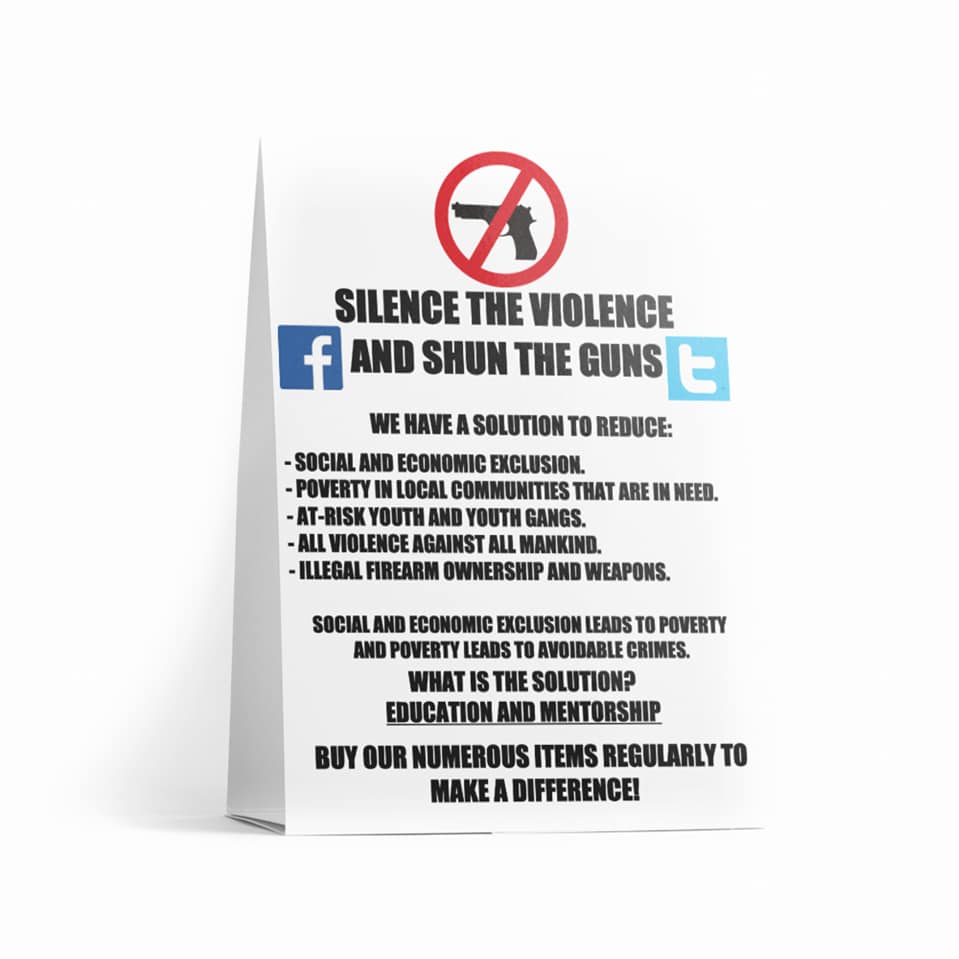 LOOK OUT FOR THIS TABLE TENT
Social and economic exclusion
Poverty in local communities that are in need
At-risk youth and youth gangs
Violence against females
Violence against males
Violence against LGBTQ
Gun violence
Illegal gun activity, ownership and weapons
In 2010, Silence the Violence and Shun the Guns was launched in Toronto, Ontario, Canada with the intention of making an impact on reducing primarily youth gangs and gun violence in North America. In 2011, items were created for sale to raise money to execute the necessary and difficult work. Money generated from the sales of the ever expanding Silence the Violence and Shun the Guns' product line and other sources, has been and will continue to be used to continue raising awareness, branding, the promotion of our solution, but not limited to, "the creating youth jobs campaign", sending out teams of people going to all schools offering mentorship opportunities, followed by awarding scholarships and to fund other planned and proven strategies to insure local communities that are in need are educated and supported on how to become economically self sufficient. There will be limitations placed on the amount of time and financial resources allocated, but no less than what is that is required for these communities to take over armed with economic literacy and a successful recovery plan. But in order to insure that these plans and efforts will not be in vain, adequate mental health assessments and services will be addressed first. Once the community is stabilized, Silence the Violence and Shun the Guns will reach out to those who wants to proceed in overhauling their community to build a  better life and future. Not all can be helped but only those who wants to be helped. Silence the Violence and Shun the Guns will introduce itself to the community, will listen to the needs of the community, evaluate the findings, provide quality of lifestyle counselling, education and training, design a customized strategy with proven based principles for that community, implement the strategy and then begin with micromanagement, which will evolve to macromanagement and end with community self management and empowerment. "The plan is to economically disrupt victims who are living in economically disrupted communities."
Silence the Violence and Shun the Guns has been self funded from day one and continues to be self funded to this day. Currently, the product line has increased to over 100 unique items. Years later, Silence the Violence and Shun the Guns is recognized as the dominate leader in its work to reduce youth gangs and gun violence by introducing and applying innovative, proactive and common sense solutions. A few of these solutions includes encouraging adequate education, mentorship, employment opportunities to marginalized youth and awarding scholarships. With a growing following, mainly in the Toronto downtown financial district, the team has expanded its awareness efforts outside of the G.T.A. and even outside of the province.
"Social and economic exclusion leads to poverty and poverty leads to avoidable crimes." When it relates to races of people, who are non white, there are targeted people who have been the most heavily impacted by far. The two races of people who have and still are getting damaged from the actions of racism are people from African decent and Indigenous people. The general perception of these two races as equal to whites are non existent. Both races have experienced hundreds of years of systematic institutional racism since their contact with colonizers which includes tearing families apart, stealing and manipulating owners of their rightfully owned property, content and inventions, negative stereotyping, generalizations, deceit, discrediting without any supporting evidence, condemnations,  physical assaults, a lifetime of molestation and rapings of males and females, mass murders, missing and murdered people, mass incarcerations, 150 years of Canadian, hundreds of years in the U S.A. and virtually worldwide of slavery and more crimes where the perpetrators were never brought to justice while several of them become very, very rich. Those riches have been passed down from generation to generation. Not much has changed in these modern times as there is still a huge race imbalance. White privilege is just a nice way to refer to worldwide white supremacy. In order for reconciliation to achieve the desired balance, which has never happened thus far, is to do a complete 100% overhaul in all facets of life. Some facets includes, the elimination of racial profiling, policing, equal social and economic opportunities, a non predatorial criminal justice system and the same level of fairness for reparations other non whites who were violated. And accountability and harsh punishment for anyone who practices in the act of racism. Yes, youth gangs and gun violence can be noticeably reduced if we as a society face the facts, pull together and take appropriate action. It starts with consistent and continuous purchases in order to insure that "hope" for the future will result in bankable results. Silence the Violence and Shun the Guns appreciates all those who have participated in the growth of this initiative since day one and is committed to continue this work until the job is done. Silence the Violence and Shun the Guns is a division of Negotiate on Demand. You can also view Silence the Violence and Shun the Guns' webpages which details back to the inception of the initiative on Negotiate on Demand's website here. Or you can visit Silence the Violence and Shuns' Facebook pages where you will see posts going back to May 1, 2011. Here is the main Facebook page: www.facebook.com/silencetheviolenceandshuntheguns/ and the Canadian Facebook page: www.facebook.com/silencetheviolenceandshunthegunscanada/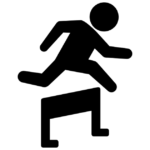 Now there are basically only two major hurdles ahead before Silence the Violence and Shun the Guns can begin executing the envisioned initiative with no possibility of any disruptions. The goal is to get past at least one of those hurdles in 2018 and the prospects of attaining that goal are looking very good, thanks to an exceptional 2017. Shortly after, the founder will be revealed and videos and pictures will be posted documenting the challenges and the victories in the communities that Silence the Violence and Shun the Guns humbly serves. The begining of transforming lives and communities, that simply needs a hand up, are now on the horizon.
BUY SILENCE VIOLENCE AND SHUN THE GUNS' ITEMS FROM ITS GROWING PRODUCT LINE SO YOU CAN MAKE A DIFFERENCE!